Written by Donna Bolte
(
Warning: this article contains difficult subject matter, but we believe it's important to honor all of the duties our volunteers take on, and we hope that by spreading the word about situations like this one, others will be motivated to prevent them.)
The countryside around Cambridge, MN is beautiful, and when you turn down the driveway of this particular address you note the lovely setting and the great set up for horses. There's an arena for training horses, stables with roomy stalls and covered outdoor area with a dove cote on the second story, and that sprawling home with lots of windows. Then you get closer to the stables and notice the building that looked so great from a distance is boarded and patched and in a room upstairs there's patches of old-looking fur scattered on the floor. Across from the stables, a dead cat is decomposing on top of hay in the hayshed. Then there's the house.
Again, as you get closer to the house, its appearance deteriorates. Blinds are askew, grass is high, there's junk lying around, and there's a sense of abandonment. And there's the stench. Even though all windows and doors are shut, a nauseating stench exudes from the house.
The real estate agent handling the foreclosure of this house discovered its contents and contacted Vickie Lachelt, head of the Spay-Neuter-Outreach Program at Feline Rescue.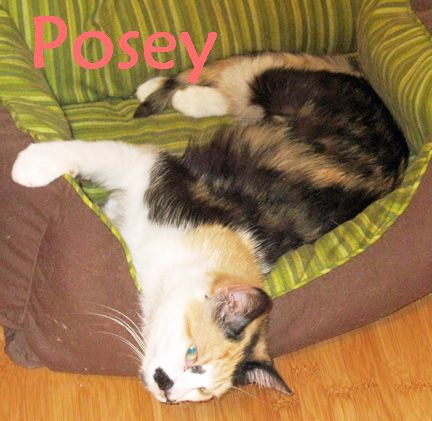 She had worked with Vickie on a similar unfortunate situation last year where 20 kittens, pregnant females, and other adults were rescued from a nice country home when owners walked away. Luckily outreach volunteers were able to find homes for those 20 cats. Over the next several weeks, outreach volunteers returned to the Cambridge house again and again, taking bags of dry cat food, cans of soft food, litter boxes and litter, and containers of water.
What outreach volunteers found were almost 60 cats, luckily most still alive but starving and dehydrated, some of whom had been trapped in this house with no opportunity to escape. The owner accumulated these cats, then locked the door and walked away.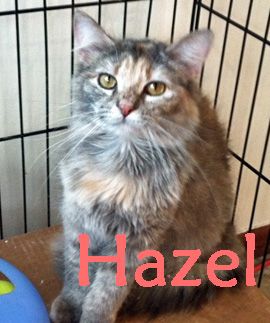 The stench was so overpowering and the filth so pervasive that some volunteers wore masks and surgical booties to enter the house. Live-trapping the cats to get them out of there and on the road to health and safety began immediately.
Trapping most of the cats wasn't too difficult as hunger drove them into the live-traps to reach food at the end of the traps. Some of the cats were too scared to enter the traps and volunteers returned time and time again until convinced that all cats had been rescued; untouched food and water was a good indication that no cats remained in the house. Unfortunately, some cats hadn't made it and several were found in an air vent, obviously attempting to escape, and one was found stretched out on the floor under a shelving unit.
Some of the cats were in pretty good shape, others were terribly thin. A couple had damaged eyes, only one was spayed or neutered. Most were young and petite although there were few tiny babies.
You could tell the cats had tried to be good. Litter boxes scattered throughout the house were mounded with feces. The excrement radiated from the area around the litter boxes, lined walls, was concentrated in corners, but was pretty much everywhere. The stench of urine made volunteers gag.
The most heartbreaking aspects of this situation were holes in the screens and ripped wallpaper as cats had presumably tried to claw their way out of windows. There was no escape as the holes in the screens only led to locked windows and ripping the wallpaper only led to solid walls.
The majority of the cats were scared. A dozen were hiding in the underside of a sofa. Trash and remaining furniture had to be overturned in order to locate terrified cats. Most of the cats are now safely in foster homes or with other no-kill shelters that stepped forward to accept them. A few have been fortunate enough to find permanent homes. Most require patience, a quiet environment, and healthy food to overcome their ordeal. Most remain skittish but in following-up with foster caregivers, they are gradually coming around and accepting human kindness.
Feline Rescue volunteers continue to return to this address to live-trap cats who are living outside the house. These cats did not have to endure the miserable existence of the cats trapped inside the house, but must be relocated since they were left behind with no food source or caretaker. Some of these outdoor cats are friendly and can be adopted into homes; others that are not socialized will be relocated to hobby farms or barns where they will be fed and cared for properly.
One more animal hoarding situation resolved; many lives saved that could have ended tragically. One lesson to learn from this is that animal hoarding situations have to be stopped. This home owner may have felt compassion for stray cats and wanted to save them. However, spaying and neutering them would have stopped this situation from spinning out of control. There are humane solutions to animal over-population but when the problem becomes this huge, even those solutions become more difficult to carry out.
How could one justify the filth, the starvation, the overcrowding these cats were made to endure? What about those around who knew about this situation and didn't step in to help? Another lesson is that everyone needs to be aware of situations like this and try to step in to assist. Thankfully these cats were discovered by the real estate agent before it was too late for most of them. Thankfully, she was wise enough to contact Feline Rescue's Spay-Neuter Outreach Program for help.
The cats who endured this terrible experience will be available for adoption through Feline Rescue's Spay-Neuter Outreach Program. After living so closely together, many of these cats are bonded and would do best if adopted together to ensure transition to a loving, patient home is successful. If you can open your hearts and homes to these deserving cats, please contact Feline Rescue's Spay-Neuter Outreach Program at
outreach@felinerescue.org
.
If this story has touched you, please consider making a donation to Feline Rescue so that we can continue and expand our work. There are many ways to donate - you can find more about them on our website, felinerescue.org or on this blog's Donate page
.